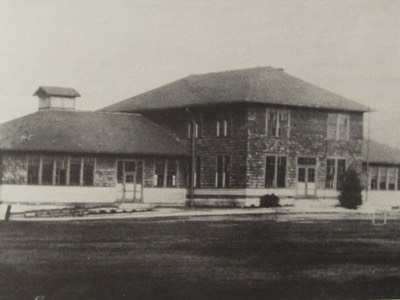 From its very inception, the City of Nelson placed educational opportunities for its youth at the highest priority.
Shortly after the city's founding, the Nelson School was opened to serve the town's young people. City elders recall the school as a fine institution which afforded its students the very best in academic instruction, and young people from surrounding communities, in an age before school bus transportation, would walk miles to attend the school. For a time, the Nelson School, in addition to being an elementary school, was also a high school. For several years, the school also boasted a gymnasium for athletic events. Hundreds of local students attended Nelson School for more than a half-century. However, in the late 1960s and early '70s, when school consolidation was in vogue, classes were halted at Nelson School, and some time later, the aging wooden building was raised. Nelson students henceforth attended Tate Elementary School. The Nelson School building was located on the knoll where the playground and public restrooms of the Nelson City Park are now located at the corner of Kennesaw Avenue and School Streets. (Hence, the street's name.)
Because the city is almost equally divided between two individual counties, Nelson is served by two highly-rated and accredited public school systems, the Pickens County and Cherokee County School Systems. Students attend the system respective to the county in which they reside, and that determines whether they are to become Dragons or Grizzlies. For those students who live in Pickens County, they attend Tate Elementary School, Pickens County Junior High, and Pickens County High School. For those from Cherokee County, they are served by the Ball Ground Elementary STEM Academy, Creekland Middle School, and Creekview High School.